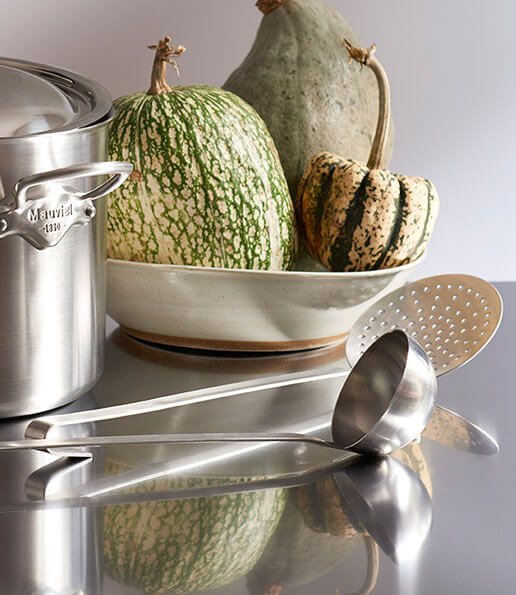 Compulsory accessories to round up the collection Mauviel 1830
Accessories by Mauviel 1830.
They are useful, even compulsory. Used by the Chefs for the preparation of dishes, they have their pride of place in the kitchen next to the essential cooking utensils.
In copper or stainless steel, the ladles stand in the pantries next to the forks and skimmers, letting out the secrets of the traditional cuisine, funnels, sieves, sauce boats, and utensil holder pots complete the range Mauviel 1830.
With excellence in mind, the accessories Mauviel 1830 are in keeping with the tradition of the Company from Normandy.

Brushed aluminium pot

Brushed copper pot

Cast-iron support

Copper support

Copperbrill

Crochet pouch

Funnel

Hammered aluminium pot

Hammered copper pot

Interface disc

Porcelain

Sauce pot

Seafood tray holder

Small saucepan

Soufflé mold

Stainless steel rack for rectangular roasting pan

Stainless steel support for beating bowl

Wooden box
Amethyst spatula

Automn grass spatula

Bark spatula

Blush spatula

Butter spatula

Chili pepper spatula

Chili pepper spoon

Chocolat brownie spatula

Clear spatula

Cold state spatula

Cookie sheet baking

Cookie sheet baking

Coral spatula

Cotton candy spatula

Cupcake spatula

Frosted lemon spatula

Fuschia spatula

Fuschia spoon

Gingerbread boy spatula

Gingerbread girl spatula

Grape spatula

Green apple spatula

Hunter green spatula

Japanese maple spatula

Lagoon spatula

Latte spatula

Lilac spatula

Lime spoon

Midnight spatula

Midnight spoon

Mint spatula

Mint spatula

Mocha spatula

Mustard spatula

Navy spatula

Olive spatula

Orange peel spatula

Orange peel spoon

Orchid spatula

Peacook spatula

Powder blue spatula

Raspberry fizz spatula

Royal purple spatula

Royal purple spoon

Set of 2 mini cupcakes spatulas

Soy milk spatula

Stratus blue spatula

Stratus blue spoon

Summer sky spatula

Sun ray spatula

Sun ray spoon

Teal spatula

White spatula

White spoon