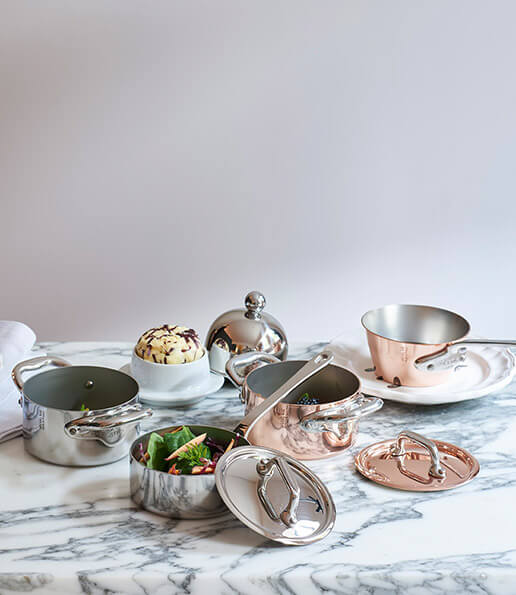 The collection M'MINIS, small sizes, great prospects.
With this collection, the manufacture Mauviel 1830 goes one step further.
May it be for celebration occasions or a romantic dinner, in stainless steel or copper, with a bronze or a stainless steel setting, the collection M'MINIS is according to your taste.
The minis in copper, are made of 80% stainless steel and 20% copper. Destined for the use in restaurants dining- rooms, and cherished by restaurants owners, they are perfect for the presentation of sauces.
The minis are daring and ornate the tables with their unique style: chic and hallmarked by the company from Normandy.
An exclusivity Mauviel 1830.

Heater with candle for small saucepan

Lid

Oval stewpan with lid

Roasting pan

Round frying pan

Saute pan

Saute pan

Small saucepan

Small saucepan with lid

Small saucepan with spout

Splayed sauce pan

Stewpan with lid
Heater with candle for small saucepan

Lid

Pomme-Anna saucepan

Roasting pan

Round frying pan

Saute pan

Saute pan

Small saucepan

Small saucepan with lid

Small saucepan with spout
Heater with candle for small saucepan

Lid

Oval stewpan with lid

Roasting pan

Round frying pan

Saute pan

Saute pan

Small saucepan

Small saucepan with lid

Small saucepan with spout

Splayed sauce pan

Stewpan with lid