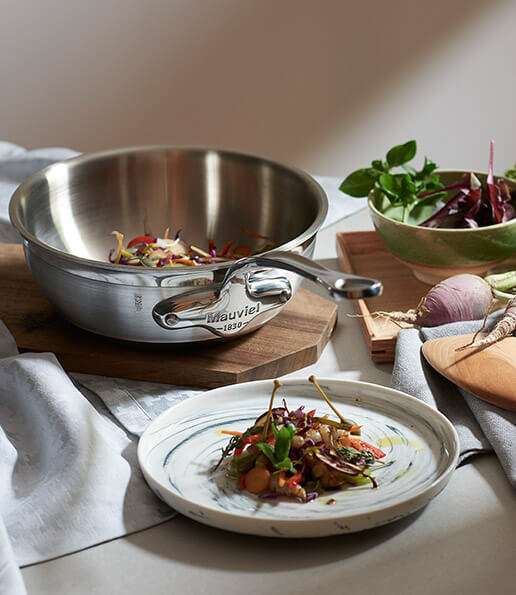 The collection CUISINE MODERNE, or the meeting of two passionate in culinary tradition.
Created by the Company in Normandy and the multi-starred Chef Yannick Alléno, this collection is inspired by the passion for gastronomy. For several years, Valérie Leguern Gilbert, President of Mauviel 1830 and Yannick Alléno have been working together to offer the best of their universe.
Their main goal, was the creation of an exclusive utensil, hallmarked by the Chef, then the collection made of stainless steel multi layers hallmarked "Cuisine Moderne" by M&A.
This collection has the characteristic of being very effective. The basis is the usual 5 layers by Mauviel 1830, from which the first layer of stainless steel on the edge of the product has been removed, leaving the aluminium, to optimize the cooking performance. This characteristic technique makes it a range of exception.

Stainless steel multi layers.
Thickness 2,6 mm- pourer Edge.
Exterior polished- mat
Fixation by stainless steel rivets strong section.